Let Splat Graphics design and build a responsive website that will look great on all devices.
Problems with Non-Mobile Friendly Sites
✕ Text too small to read
✕ Links too close together
✕ Content and images wider than screen
Google is now making it difficult for non-mobile friendly websites and so is in many ways even damaging their potential for success. So it is time for action..
While your existing website still looks good on a computer screen - it doesn't look as good or function as well on smartphone or other mobile device.
Smartphones have officially over-taken desktops as the most commonly used device for browsing and searching the web.
Mobile Friendly CMS Features
With Mobile Friendly CMS, the possibilities are endless. There are over 1000s of extensions available with new ones being added daily. Our developers have worked with many of these extensions and can integrate them to work seamlessly with your site. Some popular CMS extensions are-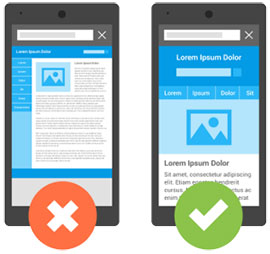 eCommerce Shops
Directory systems
Event calendars
News system
Document management systems
Ads and Affiliates
Statistics tools
Polls
Surveys
Video streaming
Youtube video sharing
Flash banners
Google maps
Slideshows and galleries
Subscription systems
Online communities
Blogs
Forums
Chat rooms
Wikis
Online surveys
Custom forms
Real estate listings
Job listings/Job boards
RSS readers
Sitemaps
SEO/SEF extensions
FTP rooms
...and many many more